Welcome to Virginia Industries for the Blind
To employ and develop Virginians who are blind, visually impaired or deaf/blind to achieve their desired level of employment through the manufacture and delivery of quality products and services.
---
VIB 2023 Market Basket
At the end of each state fiscal year (SFY), Virginia Industries for the Blind (VIB) completes a price analysis of the top products it sells to state buyers. This analysis is to ensure that VIB is living up to the commitment that its General Manager, Matt Koch, made when he joined VIB in 2014 that they would only introduce an item as a mandatory source if it saved the state money. Since then, VIB publishes an annual Market Basket of its top selling items to compare its prices to the prices from open-market sources. Year after year, this Market Basket program consistently shows a savings of 26-34% for state customers worth millions of dollars every year.

In SFY 2023, VIB's prices on top selling items saved the Commonwealth more than $3.8MM or 26% of their total spend if state buyers had purchased from open-market sources such as Amazon and Office Depot. And VIB products provide four dozen quality jobs for Virginians in Charlottesville and Richmond with competitive salaries and benefits allowing the employees (more than half of whom are blind) to grow their careers and contribute to their communities.

Thank you for supporting VIB's mission and allowing it to save you money.
---
VIB on the Radio
Matt Koch, General Manager, and Tina Hawley-Blount, Assistant Manager for Service Contracts, were interviewed by Emerge Radio. Emerge Radio broadcasts from Hampton, Virginia. Ever since its founding in 2015, Emerge has one goal in mind: promoting the entrepreneur lifestyle, providing education to our business community, and connecting like-minded individuals. VIB is now a proud part of that community as we grow our presence and value to southeast Virginia and connect small business partners and products to the government marketplaces while creating quality jobs for qualified Virginians who are blind.
---
Virginia Industries for the Blind Visits with Virginia's Congressional Delegation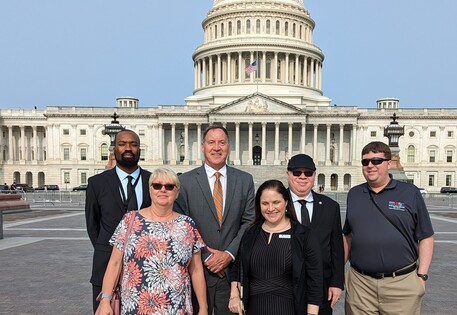 May 10, 2023: Employees from Virginia Industries for the Blind visited with Virginia's Congressional Delegation to educate them on jobs available through VIB and the services provided by the Department for the Blind and Vision Impaired. (Pictured left to right in front of the Capitol's west facade are (front) Pat Thomas, Tina Hawley-Blount, (back) Keith Kornegay, Matt Koch, Joe Godwin, and Christopher Shearin.) Three teams of two people met with the 13 legislators to ensure their offices are aware of the work being completed through DBVI and VIB. Each team included a member of VIB's staff who is blind and they had the opportunity to share their personal story of developing their skills and their careers at VIB.
---
Our Company
Virginia Industries for the Blind has operations in twenty-one locations throughout Virginia, including manufacturing, retail, and service-oriented operations. VIB currently employs more than 175 people, the majority of whom are blind or visually impaired.

Virginia Industries for the Blind (VIB) has historically been identified by our manufacturing roots. As early as 1925, VIB was producing mattresses, brooms and caning chairs for our government and commercial customers. VIB now employs blind Virginians in two manufacturing facilities, one in Charlottesville and the other in Richmond.

Virginia Industries for the Blind (VIB) provides a variety of professional services for state and federal government customers in locations all across the Commonwealth.

Virginia Industries for the Blind (VIB) provides training and other vocational rehabilitation services. This program is designed to provide a variety of services to customers of the Virginia Department for the Blind and Vision Impaired (DBVI) as well as VIB employees.

Virginia Industries for the Blind (VIB) operates Base Supply Centers (BSC's) on Military bases and in Federal Government buildings throughout Virginia. Each BSC provides a full range of products tailored to the needs and requirements of the Federal Government and Department of Defense (DoD) customers at the location.