Our Mission
To employ and develop Virginians who are blind, visually impaired or deaf/blind to achieve their desired level of employment through the manufacture and delivery of quality products and services.
Established almost nine decades ago, VIB started as a private organization in Charlottesville, Virginia through the efforts of the Virginia Association of Workers for the Blind. Now as part of the Enterprise Division of the Virginia Department for the Blind and Vision Impaired (DBVI), VIB works in coordination with the DBVI Services Division and the Virginia Rehabilitation Center for the Blind and Vision Impaired (VRCBVI) to provide a full range of employment, training, and other vocational services to blind individuals across the Commonwealth.
VIB currently has operations in twenty-one locations throughout Virginia, employing more than 150 people, 100+ of whom are blind or visually impaired.
VIB operates two manufacturing facilities, one in Charlottesville and another in Richmond. VIB manufactures U.S. Navy mattresses, University and institutional mattresses, pillows, reflective safety vests, mop heads, mop handles, mop buckets, fire extinguishers, hand sanitizer products, writing instruments, examination gloves, spices and a variety of other products.
VIB's Service Division provides a variety of employment opportunities in support of both state and federal government customers. We are currently providing services at the Defense Contract Management Agency (DCMA) stock room, U.S. Army Contract Management Support (CMS) on-site at Defense Logistics Agency Headquarters on Fort Belvoir and off-site at VIB's Richmond manufacturing facility, Virginia's Court Debt Collection Office, Langley Air Force Base Mail Room, Veterans Administration Medical Center Switchboard Center in Salem, Kitting operations in Virginia Beach and retail support operations at the Super Servmart store on the Norfolk Naval Base.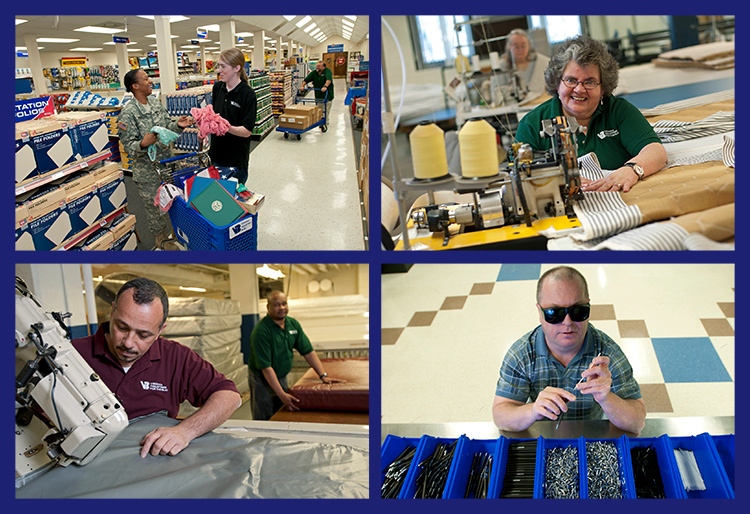 Our Retail Division is comprised of ten Base Supply Centers (BSC's) located at the Pentagon, Defense Supply Center - Richmond, Fort Gregg-Adams, Fort Eustis, Fort Belvoir, Oceana Naval Air Station, Langley Air Force Base, Mark Center Federal Building in Alexandria, and the Taylor Building in Crystal City. We also provide our customers with an online, e-commerce option for their office supply and general consumable needs.

VIB is an affiliate of the National Industries for the Blind (NIB) under the Javits-Wagner-O'Day Act (JWOD) now known as the AbilityOne Program and is an authorized distributor for, and manufacturer of, AbilityOne products and services. Both of VIB's production facilities in Charlottesville and Richmond earned ISO 9001:2015 certifications which is a global quality management standard. VIB is self-funded and self-supporting; operating without the use of general state tax revenue.